Pay attention to the buoyancy of water during installation
Pay attention to the buoyancy of water during installation
Compared with traditional underwater lights, stainless steel underwater lights are more energy-saving and environmentally friendly, and the lights are more varied and decorative, and they are widely used in various landscape lighting systems. The stainless steel underwater light is a underwater light produced by LED technology. However, as a manufacturer of LED lamps, some problems in the installation of stainless steel underwater lamps require special attention.
Underwater lamp manufacturers' high-power underwater lights are superb underwater projection ability, which can illuminate the water surface with beautiful colors, which will be especially suitable for water surface illumination, as well as wall and display products.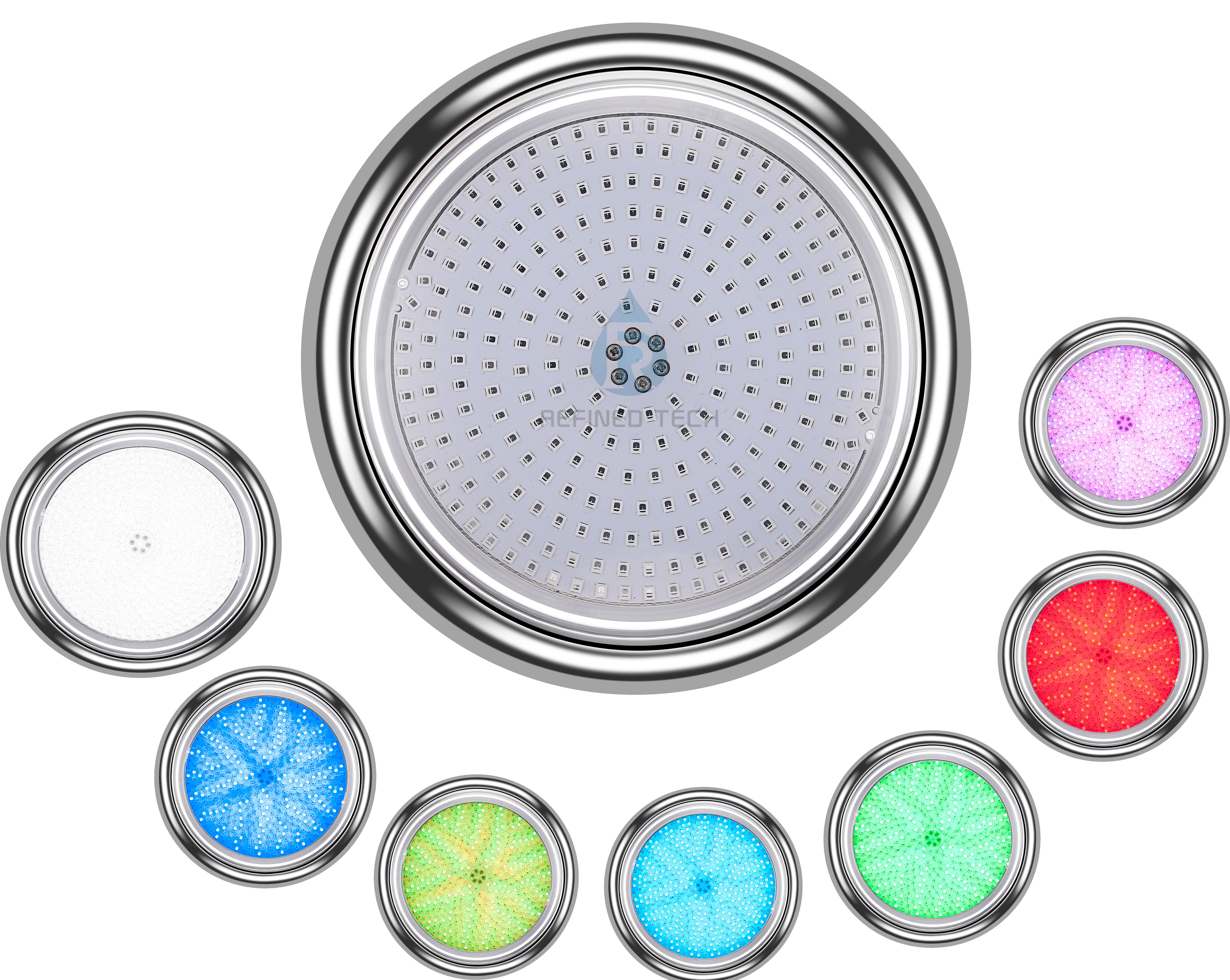 The high-power underwater light is equipped with 9 high-power and high-brightness LEDs of red, green and blue. Each LED is equipped with a concentrating lens. The illumination distance is up to 12 meters. Through the control of the controller, 256*256*256, 16777216 kinds can be generated. The light of the color changes, producing a variety of patterns, so that the water surface presents a multi-modal, colorful scene.
The high-power underwater lamp is made of aluminum alloy precision casting, fully waterproof design, surface anti-rust and anti-corrosion coating treatment, protection grade up to Ip68, can adapt to various indoor and outdoor temperature and humidity environment, the immersion depth is more than 5 meters. Excellent signal line transmission performance, so that the distance between the lamp and the controller can reach 30 meters without affecting normal operation. The 350mA constant current drive design ensures long-term LED operation without attenuation.
Stainless steel underwater lights, although used underwater, are less noticeable. However, the appearance and material are related to the specific gravity of the luminaire. If the specific gravity is too small, a large buoyancy is generated, and the fixing screw of the stainless steel underwater lamp is easily loosened, so that the floating surface of the stainless steel lamp is too heavy and the lamp holder is difficult to support. At the same time, due to long-term use in water, the shell material should have a certain anti-corrosion function, and the surface paint layer should be firm. The lighting function mainly refers to the brightness of the light source. It can choose different power stainless steel underwater lights according to the irradiation height and the light projection area. Another element of the lighting function is the color of the stainless steel underwater light. Generally, there are five kinds of red, yellow, green, blue and white, which can be selected according to the application, the object to be illuminated and the atmosphere created.
(led swimming pool lights, underwater lights, pool bulbs, par56 bulbs, niche, wall mounted led pool lights, surface led pool lights, flush mounted lights, pool lamps, E26, par38, par25, fountain lights, spotlights, reccessed lights, inground lights, IP68, OEM factory, wholesale, CE, RoHS.)
Please feel free to give your inquiry in the form below.
We will reply you in 24 hours.